By Ricky Matthew
AUCKLAND – The rapid increase of Filipino migrants settling in New Zealand, just over 100,000 according to the Philippine Embassy, has created a corresponding increase in business opportunities catering to this market.
Filipino business heavy weights who have been honoured with the Business Excellence Filipino-Kiwi Hero Awards over the years have included Oscar and Mercy Catoto of Tres Marias Trading, Edith Carpenter of Planet Earth Travel, Jeths Lacson of Epiphany Donuts, Lito Banal of Kiwi Roofing, Marjorie Bennett of Boracay Garden Restaurant and so on.
A new generation of start-ups are getting their opportunities to crack into the Filipino and mainstream market via small events like the trail blazing Halo Halo NZ www.halohalo.nz and other Filipino Fiestas. 
One such business is owned by John Bacuitis, 44, an entrepreneur hailing from the Philippines who has been making waves in Auckland's tattoo scene with his venture – 'Piyok Pain for Gain Tattoo.'
Despite having a full-time job as a motorcycle mechanic, Bacuitis has managed to successfully establish his own tattoo business, providing unique and personalized ink to clients.
The name 'Piyok Pain for Gain Tattoo' may intrigue many, but as Bacuitis explains, it's a nod to his Filipino roots. "That's the hobby if you grow up in the Philippines," he chuckles. "All my uncles are tattoo artists, so I learned it since I was in high school. The name Piyok is inspired by them because that is what they always called me."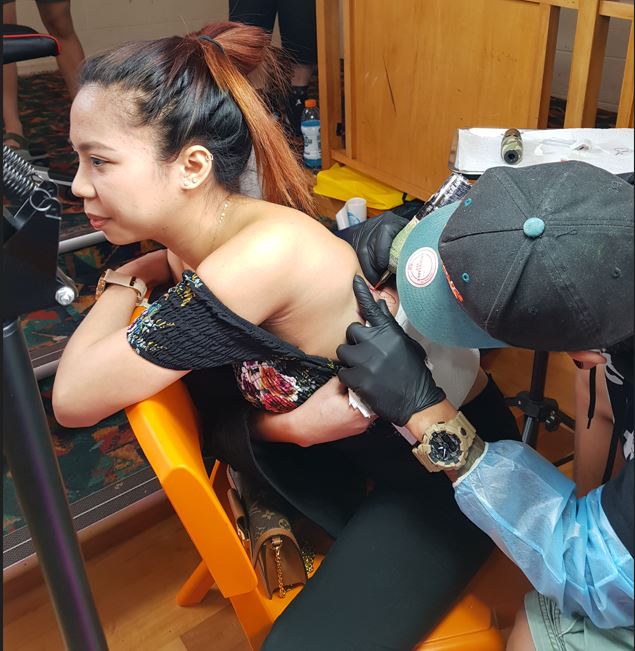 Bacuitis' journey in New Zealand began in 2018 when he moved from Dubai to Auckland. He initially settled in Wellington but lack of found the demand for his tattooing services led him to establish his business in Auckland. "There are no people in Wellington who are looking for tattoos." In Auckland, however, Piyok Pain for Gain Tattoo has been operating for six months and has gained a steady following.
His business operates out of his home, where he has converted his studio into a tattoo parlour. Bacuitis explains that the investment required to set up a tattoo business can be substantial. "You need a lot of equipment from overseas. One machine costs around $1,500 and all the investment in equipment, needles, and ink also adds up."
Tattooing isn't just a side gig for Bacuitis; it's also a labour of love. "I love doing tattoos; it's my passion," he says. But he acknowledgesthat there are challenges in running a tattoo business. "It's not like every day; it's up and down. Sometimes I have many customers, sometimes not."
In New Zealand tattoo artists must be certified and registered. "You have to be certified and it's essential in case of any reaction," Bacuitis notes. "It's illegal if you're not registered. Tattooing is bordering on healthcare, so you need proper training."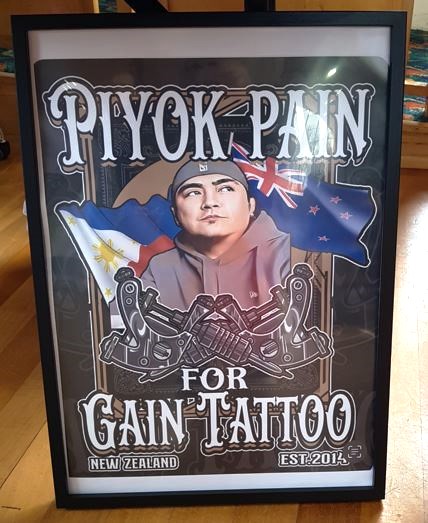 Piyok Pain for Gain Tattoo isn't a one-man show; Bacuitis has a guest artist working alongside him. However, he remains realistic about the future. "Maybe later on I'll consider making it a full-time operation. Tattooing is becoming popular among Filipinos, both here and in the Philippines. It's fashionable now, even among young people."
He primarily markets his services through social media, targeting the Filipino community in Auckland. "I have a Facebook page," he says, adding that he offers a wide range of designs. "I can do anything, from cartoon characters to intricate designs."
When asked about the average age of his customers, Bacuitis reveals that "the legal age is 18 and above, but most of my clients are in their thirties. Younger people are getting into it too, but it's mainly slightly older adults."
Bacuitis charges a minimum of $150 for a tattoo, with prices varying depending on the design's size and complexity. Larger pieces, like half-sleeves, start at $500. However, getting inked by Bacuitis comes with a caveat: "I prefer to do it all at once. I don't like second sessions as it can disrupt the flow of the design."
For now, Piyok Pain for Gain Tattoo remains a part-time endeavor, but with Bacuitis' talent and dedication, it's clear that the inking journey is just beginning for this Filipino entrepreneur in New Zealand.