By Ricky Matthew
Photo above: Eva Chen, Community Engagement Senior Advisor, Census 2023. Photo / Migrant News.
AUCKLAND – Asian communities deserve recognition for their outstanding response to the 2023 Census, say community engagement advisors. Apparently the grassroots strategy of census collectors has been instrumental in lifting Asian peoples participation in this census.
Official response rates come out next year, but Stats NZ is keeping track of the rate of return of individual census forms. As of 16 May, 819,700 people of Asian ethnicity had returned a form, which equates to 91% of the estimated Asian population in New Zealand. This is a better response than other ethnic groups in New Zealand, with much lower participation seen from Māori and Pacific communities.
A high level of participation could be attributed to several factors, such as the growing awareness and importance of the census among Asian communities, and the availability of resources and support in various Asian languages to help with completing the census forms.
It is also worth noting that the Asian population in New Zealand is quite diverse, with different ethnic groups having different response rates. For example, in the 2018 Census, the response rate for the Indian ethnic group was 89.5%, while the response rate for the Chinese ethnic group was 96.2%. Information about what this looks like for the 2023 Census won't be known until 2024, when data and statistics from the 2023 Census will be released.
Overall, while there may still be some barriers to census participation for some members of Asian communities, the high rate of participation suggests that many Asian New Zealanders see the census as an important tool for ensuring that their needs and interests are represented in government decision-making.
With time running out before the New Zealand census comes to a close in June, census officials are working hard to reach out to as many people as possible and to lift responses in areas with lower rates of participation.
They are leaving no stone unturned, attending community events and even offering incentives such as grocery vouchers and Warrior's rugby league tickets to encourage people to complete their census forms.
The hope is that more people will respond, and that the data collected will accurately reflect the needs and characteristics of New Zealand's diverse population.
Simon Mason, Deputy Government Statistician and Deputy Chief Executive Census and Collection Operations spoke to the importance of filling out the census.
"Data gathered through the census is used by communities, iwi, councils, businesses, and government to make important decisions about where to fund and locate services and infrastructure across the country.
"Census data is used to make important decisions that impact every person and community in Aotearoa New Zealand. The opportunity to be part of the census only comes round every five years. It is our chance to represent ourselves, our families, whānau, and communities to create change".
Stats NZ has deployed Community Engagement Teams in a 'grassroots' approach to working with communities and support priority response groups to take part in the census.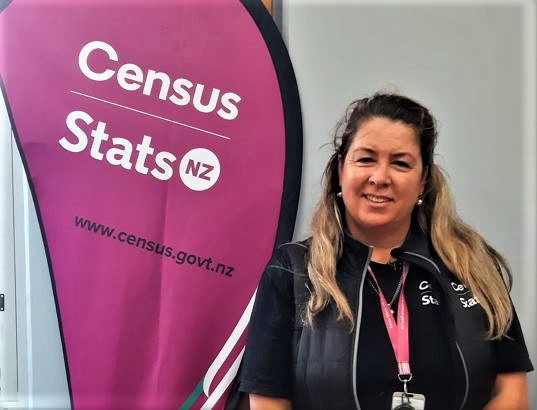 Migrant News spoke with Community Engagement Advisor Rochelle Lee, who is a part of this grassroots plan of action to bring up respondent numbers before the census closes.  Rochelle is part of the Auckland North team which spans from Onehunga in the South all the way to Wellsford in the North.   There are eight teams across the nation working hard to reach as many people as possible across all ethnicities.
"We are supporting as many events as we can manage, to help people to complete their census forms so we can lift the census response and deliver data for the country. We will still do events until 4June. For example, I just got invited to a Telugu Mother's Day event. We think that is a little bit of a low response area so we will go there and work our magic."
"The census will wind down in June, with some collection activity and events still going in Auckland only in June. The 0800 helpline will remain open for the whole country until 30 June. And people will need to make sure they mail back paper forms to arrive with Stats NZ no later than 29 June."
"We want everyone to be counted so future funding for communities is correct and people can benefit from good quality data. The population count is important for things such as wait times at hospitals and school builds, and the location of parks and public transport. These decisions come from local councils and central government agencies. When you stop and really think about it, census data is vital in our everyday lives."
BACKSTORY:
Information on the factors that may prevent ethnic communities from participating in the New Zealand census can be found in various sources such as academic research papers, government reports, and news articles. We detail below some of this data.
Language barriers: Some ethnic communities may have limited proficiency in English, which can make it difficult for them to understand the census questions or complete the forms. This can be a significant barrier to participation, especially if there are no resources available in their native language.
Lack of awareness: Some ethnic communities may not be aware of the census and its importance. This could be due to a lack of outreach and education on the part of the government or community organisations.
Mistrust of the government: Some ethnic communities may have historical or current reasons for distrusting the government, which can lead to reluctance to participate in the census.
Fear of repercussions: Some ethnic communities may be fearful that providing personal information on the census form could lead to negative consequences, such as deportation or discrimination.
Mobility: Some ethnic communities may be highly mobile or transient, making it difficult for them to participate in the census if they are not in one place long enough to receive or complete the form.
Accessibility issues: Some ethnic communities may face accessibility barriers, such as physical disabilities or lack of internet access, which can make it difficult to participate in the census.