From 'Sisig Nachos' to 'Black Adobo Rolls' – 'Manila Eats' Serves Up Innovative Twists on Filipino Classics
By Ricky Matthew
AUCKLAND – In the Asian culinary space where tradition often takes centre stage, 'Manila Eats,' a renowned Filipino food truck, is adding a touch of Kiwi innovation to serve up a quirky twist on traditional Filipino classics.
With a remarkable five-year journey under its belt, Manila Eats has been on a mission to transform the Filipino food landscape in Auckland. In an exclusive interview, Marc Edrada, the visionary behind 'Manila Eats,' provides insights into the food truck's unique approach and the cultural narrative it is weaving.
What distinguishes Manila Eats is its unconventional approach to Filipino cuisine. It focuses on upmarket and mainstream venues and deliberately avoids traditional Filipino staples like rice and noodles. "We target a mainstream audience. That's why I don't have rice, instead we have rolls and nachos," Marc explains.
You'll often see their vibrant and colourful food truck on display at select events and locations such as Goodside Smales Farm, the Auckland Food Show, Silo Park, and 'The Food Truck Collective' events.
The heart of Manila Eats lies in its innovative menu, featuring dishes like 'Black Adobo Rolls' and 'Vegan Bicol Express Nachos.' These creations are emblematic of the creative fusion of Filipino and mainstream flavours and have resonated well with the locals in Auckland, highlighting the power of culinary innovation as a bridge between cultures.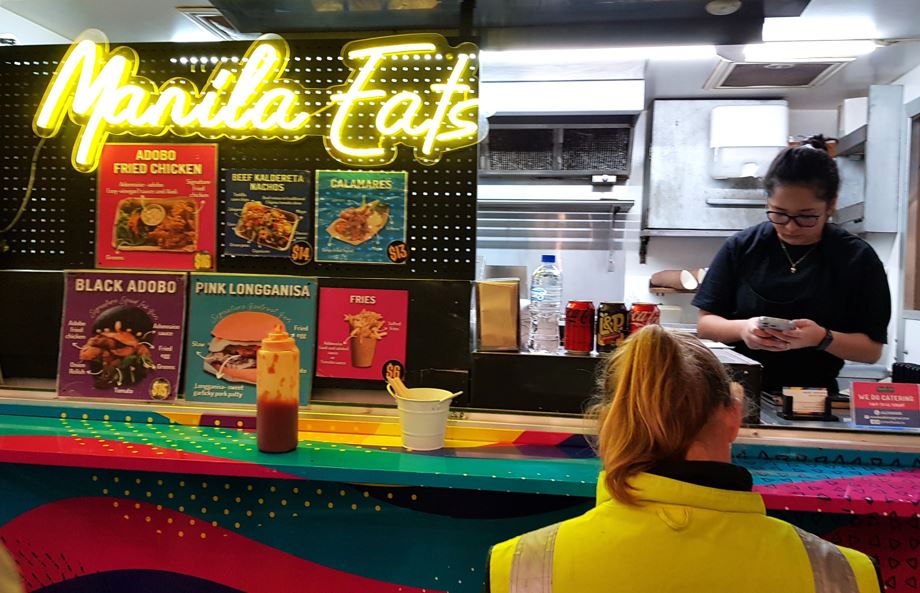 When discussing their client base, Marc clarified that Manila Eats caters to a diverse audience, primarily composed of "European and multicultural locals."
For Marc Edrada, Manila Eats isn't just about introducing Filipino cuisine, it's about making it more accessible to a mainstream audience. "Our mission is to present Filipino food in a palatable and acceptable way to the mainstream," he explains. "You're experiencing Filipino food, but it's just presented in a different way."
Marc shared his culinary journey, which began in the Philippines. "My mom and my grandma always used to cook Filipino dishes," he reminisces. "I also studied cooking before I came to New Zealand."
With an inventive approach to Filipino classics, Manila Eats continues to infuse Auckland's dining scene with its unique flavours. As Marc's vision evolves, the food truck aims to make Filipino culture more accessible to a broader audience, celebrating the fusion of flavours and cultures that define the heart of 'Manila Eats.'
Manila Eats is propelling Filipino cuisine into the spotlight, one innovative twist at a time. As Marc aptly puts it, "Filipino food is not mainstream, not yet. But we are growing and hopefully soon we will see the cuisine grow too."
BACKSTORY – The rapid increase of Filipino migrants settling in New Zealand, a shade over 100,000 according to the Philippine Embassy, has created a corresponding increase in business opportunities catering for this market.
Small business heavyweights who have been honoured with the Business Excellence Award at the annual Filipino-Kiwi Hero Awards over the years have included: Oscar and Mercy Catoto of Tres Marias Trading, Edith Carpenter of Planet Earth Travel, Jeths Lacson of Epiphany Donuts, Lito Banal of Kiwi Roofing and Marjorie Bennett of Boracay Garden Restaurant.
A new generation of start-ups are getting their opportunity to crack into the Filipino and mainstream markets via community events like the trail blazing Halo Halo NZ www.halohalo.nz (previously Fiesta Filipinas) and other Filipino events.