Afghan owner Abdul gets the grill ablaze. Photo: RNZ / Adam Burns
Adam Burns, RNZ
A Christchurch restaurant which operates irregular opening hours and without a menu has been dubbed one of the city's "best kept secrets".
The offhand approach of the Afghan restaurant in Addington appears to be one of its recipes for success.
This is despite no rhyme or reason to when the spot opens its doors.
As a result, the most reliable source of intelligence for hopeful diners is a popular Facebook page.
The page was started nearly a decade ago by a pair of loyal customers, who quickly picked up on its uncanny operation when working in Addington.
The 'Is AFG Open' page now has more than 10,000 members.
Most days a person asks on the page whether the restaurant will be opening that particular night, often in the most inventive way possible.
Some resort to poetry, others to complimentary descriptions, in an attempt to mitigate the monotony of the same question offered up daily.
The background of the Afghan's owners remains largely unknown to outsiders.
RNZ asked to interview the Afghan restaurant owner known as Abdul, but he politely declined, fearing it would make it more difficult to feed his customers.
An associate of Abdul, known as "Quad Bear", acknowledged he does his job because "he enjoys it so much".
Longtime fan Musaddik Musa described 'the AFG' as one of Christchurch's best secrets.
"When people ask questions like 'are they open this weekend? or 'what's the menu like' I just chuckle knowingly," he said.
RNZ spoke to some diners lined up after the restaurant opened on a recent night.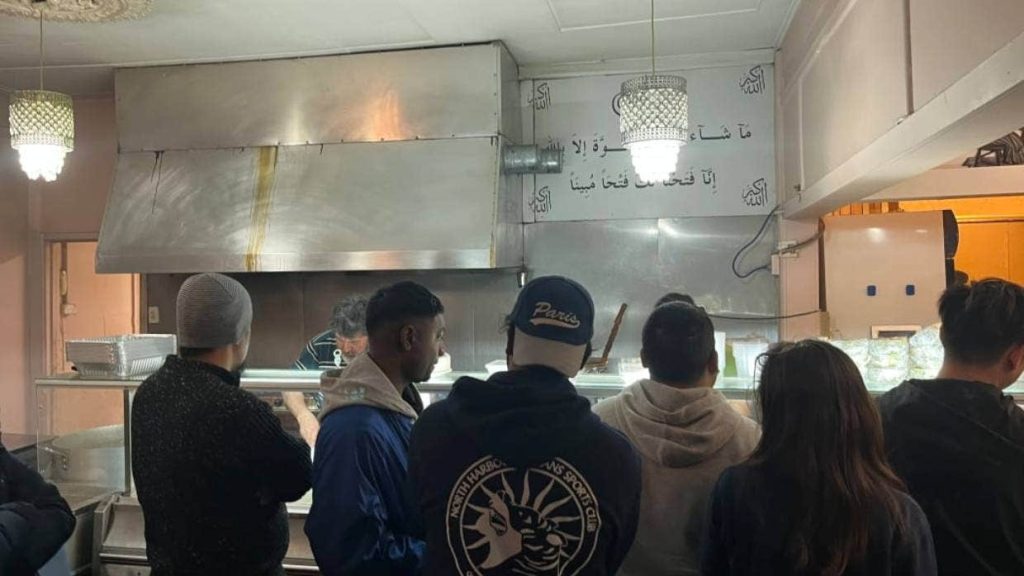 Loyal customer Johnny said its best quality was its "authenticity".
"You just rock up and you just pay 20 bucks, you ask them how many … everyone is given a good chomp and a good feed.
"It's the best 20 bucks you could ever pay."
The man brought along a friend from the UK for his first Afghan experience, one he said "he'd been waiting for the last two hours for".
Another longtime customer said people are only too happy to wait.
"It's nothing fancy, it's just the food that makes us come back all the time."
Unlike other establishments, the AFG's prices have not succumbed to inflation.
"It's very unique and he hasn't put up prices since 2014 … it's still the same," the man said.
Another man in line, who said he had been frequenting the spot for 15 years, said it had gradually grown in popularity.
"It's special," he said.
"It remains $20 … chicken is going up, salad is going up … you can see the queue."
RNZ also spoke to two American expats who had been recommended the AFG by friends.
"There's always a line.
"We mostly eat vegan so this is going to be a treat for us … we're just going to go with it."
And if you were wondering yes, AFG is open tonight.
Published with special permission from RNZ