By Ricky Matthew
(above): Food tasting at Banu's stand at the Auckland Food Show 2023. Photo / Migrant News
AUCKLAND – Although curry is an Indian dish modified for British tastes, it's so popular that it contributes more than £5bn to the British economy. The hugely popular Patak's bottled curry sauces and the spectacular growth of this British company is being mirrored by half a dozen or so New Zealand food companies.
Asian culinary heroes here are creating a range of new-age products that are redefining traditional Indian cuisine to captivate the palates of Kiwis and Indian diaspora within New Zealand.
At the Auckland Food Show 2023 in July, many of these culinary innovators were displaying their new-age product lines to boost their sales and grab a share of the lucrative easy to prepare sauces market. From creatively redesigned curry sauce to vegan feta cheese made from cashews, there was no shortage of new products to satisfy curious foodies.
One standout exhibitor at the Food Show was Savour Vegan Creamery, the brainchild of Auda Finan. This innovative enterprise specializes in crafting dairy substitutes with a focus on authenticity and flavour. Auda's vegan offerings include Cashew Feta, dubbed Casheta, and Cotta, a ricotta-style vegan cheese.
Interestingly, Casheta has found a surprising fanbase within the Indian community, offering a unique twist on traditional paneer. "Our ricotta-style cheese has become a popular substitute for Indian paneer, with the rise of vegan and health-conscious individuals, Auda Finan explained. "We first introduced it at 'Winetopia, – an event focused on wine connoisseurs and the response was overwhelming."
Another Indian innovator showcasing their product range at the Food Show was Sobhina's. This is a mother-daughter duo, who have recognised the need for more health conscious and convenient Indian curry pastes to cater to the modern market. "Our products are natural and healthy, with no added preservatives," shared Subhadra and her daughter Nimeesha. "On top of that, they are convenient and easy to use. You only need one tablespoon for 200 grams of meat. So, you get three to four meals per jar."
Nimeesha spoke on the great response of the general public to their sauces. "We have mild, medium, and hot spice level for all our sauces. This helps to cater for the wider range of palates in New Zealand. Our original curry paste is quite popular with the Kiwi and Asian community. Then we have our Chai and Garam Masala which are very popular with the Indian community."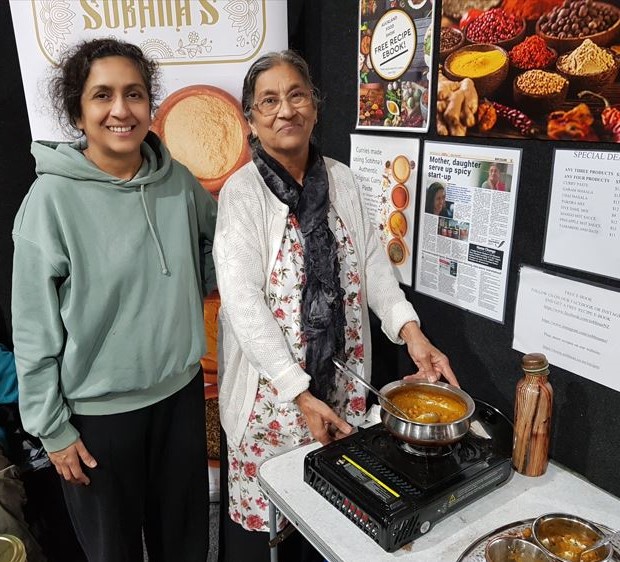 The duo has now set their focus on the Australian market, saying: "We are available in Countdowns and Farro Fresh, but our goal is to expand to the Australian market within the next two years."
Much like Sobhina's, the family run venture Banu's is bringing the taste of authentic Indian sauces to the Kiwi palate, with a twist.
Banu started Indian vegetarian cooking classes from her West Auckland home in 2014. Since then, she has taught over 7500 students. She explained that her business sprouted from the roots of this cooking class. "The very first product was my garam masala and curry powder. That is because it was the blend, I was making to teach the students. They liked it and everybody said, please put it in a bottle and we want to buy that."
The product line has grown rapidly since then, including the introduction of her signature chilli oil. It is a blend of unique ingredients such as New Zealand sea salt, Indian chillis, and more surprisingly, whole peanuts.
Banu explained the reason behind the innovative addition of peanuts. "Chilli oil usually doesn't have texture except for the chilli flakes, but peanut gives a whole lot of texture, which is unique for us. You just take the peanuts from the bottom of the jar, and it adds flavour and texture."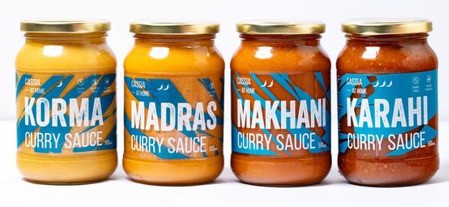 In July 2014, restaurateurs Sid and Chand Sahrawat opened Cassia, a popular and bustling contemporary Indian restaurant in Fort Lane, Auckland. Then 'Cassia at Home' launched in late 2020, to offer a range of sauces, spices, blends and a bespoke Cassia candle to enable fans of Indian cuisine – anywhere in New Zealand – to recreate Cassia from the comfort of their own homes.
The success of these Indian food entrepreneurs underscores New Zealand's open-mindedness to embrace global flavours and the desire of the Kiwi populace to explore diverse culinary experiences. With their passion and commitment, these trailblazers are changing the way people perceive Indian cuisine and are setting new trends in the world of gastronomy.