By Ricky Matthew
(above) Carl Chua, Supportive Parent. photo / Migrant News
AUCKLAND – In the last ten years there has been a seismic shift in the reading habits of children and adults. People are spending much more time fixated on a screen searching for information and have less time to get stuck into reading books.
The good old days when the whole family used to troop into a library to borrow a stack of books to read are fast disappearing. So much so that Auckland Libraries has taken a step to encourage reading by eliminating the penalties imposed for late return of books.
Migrant News sought the views of three Filipino book distributors and a supportive parent on whether the reading culture is diminishing in their community.
Ezra Paz, Kiwi Nanay, facebook.com/kiwinanay, kiwinanay@gmail.com, 0210 477373.
"What is your view on the opinion that Filipinos don't read?"
I beg to disagree. I love books. Growing up, I did not have access to many books. However, when I did have a book, I would read it over and over.
Being able to come to New Zealand has given me the opportunity to go to the library. I really love it. Being able to pass that onto my children is a real joy.
I have also brought my collection of Filipino books from home.
My aunty is a children's book illustrator. She illustrated some of the books we are selling, such as 'All About the Philippines'. I grew up with her giving me books.
When I got married, she continued to send me the books that she illustrated or wrote. That gave us a collection of Filipino books in New Zealand.
Other mums were asking for Filipino books, and I said, "you can borrow mine." They responded, "why don't you sell some." That's how it all started.
I am also selling some art prints that are also made by my aunty. They bring me back home as they are very nostalgic. I want to pass that onto my children.
I want to show the children and families that there is a joy in turning pages instead of looking at the screen.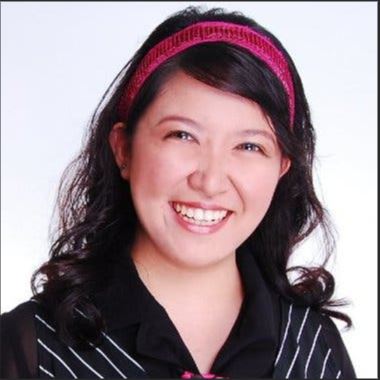 Jade-Ceres Munoz, The Filipino Children's Library, https://www.facebook.com/filipinochildrenslibrary.
I've always been into literature because I grew up with books and both my parents are writers.
When I moved to New Zealand, it was very difficult to find Filipino books and books in general.
My daughter is the one who inspired me to sell books.
Over the years I started importing books to New Zealand from the Philippines. I was working with the embassy at the time.
Then Covid happened and the Filipino children's library started. I wanted to digitize the stories and make it available to children who are looking for Filipino stories but don't have access to it.
"How have the Filipinos reacted to having access to these books?"
People are looking for books. However, they don't always use books to teach their children. This is reintroducing them to this concept that reading is such a good experience for kids to grow up with.
It takes one step at a time to get people to be more involved with reading.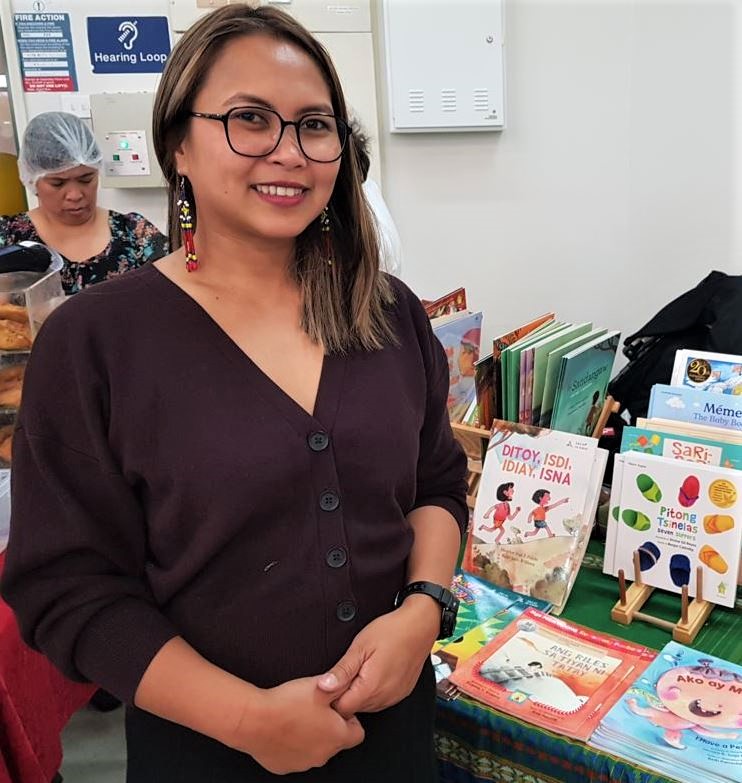 Donna Dacuno, Matatas Bookstore, www.matatas.co.nz.
"Why did you open your bookstore?"
Matatas means fluent in Filipino. We have established this bookstore to give resources to parents, friends, and homecare providers to allow them to facilitate language teaching of Tagalog, English, and the regional languages as well.
We offer bilingual Tagalog-English children's books. We also offer Bisaya-English and Chavacano-English.
We know that in New Zealand almost 50% of Filipinos are non-Tagalog speakers. If we go to Facebook to the Facebook groups, there are lots of Bisaya speaking people.
What we are trying to do is to provide resources to their kids to learn their own languages.
We are not just focusing on the stories but how they are constructing their sentences.
For now, we focus on providing picture books because it is better for introductory purposes for the children based here in New Zealand. It will help them visually to associate the word with the picture. There are no big sentences, just phrases that they can easily grasp.
"What is your target age group?"
At the moment, it is 0-9 years old. The next step is 9 plus. We are trying to move up to higher ages because we also have other bookstores that are offering from age 0+.
We are engaging with schools about offering books because we have lots of new migrants that would like to continue Filipino languages.
"What are you doing to encourage reading in the community?"
We want to promote the concept of incorporating a Saturday program in libraries. This would attract more Filipinos to the library. It would be an area that Filipinos can go on a Saturday with the family.
We first did this at the Auckland City Central Library on April 1st. We want this to be picked up by other libraries.
Our next step was at the Batang Pinoy event on 15th April, where we had a story telling about 'The Monkey and the Turtle' by Jose Rizal. Hopefully we have more of this.
"Would you say Filipinos in the Philippines and Filipinos here are different in terms of interest in reading?"
For the 1.5 generation, the ones that are brought here at an early age and don't have much access to Filipino materials, there is a difference.
When they move here, they want to assimilate and integrate with the English-speaking New Zealanders. In that process they lose something from their learnings from the homeland.
Books from the Philippines are no longer relatable here in New Zealand. The Philippines is so far away and its almost 'mystical' already. That is what we want to change.
I have a half-Filipino son and I want his friends or future friends to be able to speak Filipino together. It may be through interacting with books or activities.
I'm based in West Auckland, but we ship to the whole of New Zealand, to Australia, and to the Islands.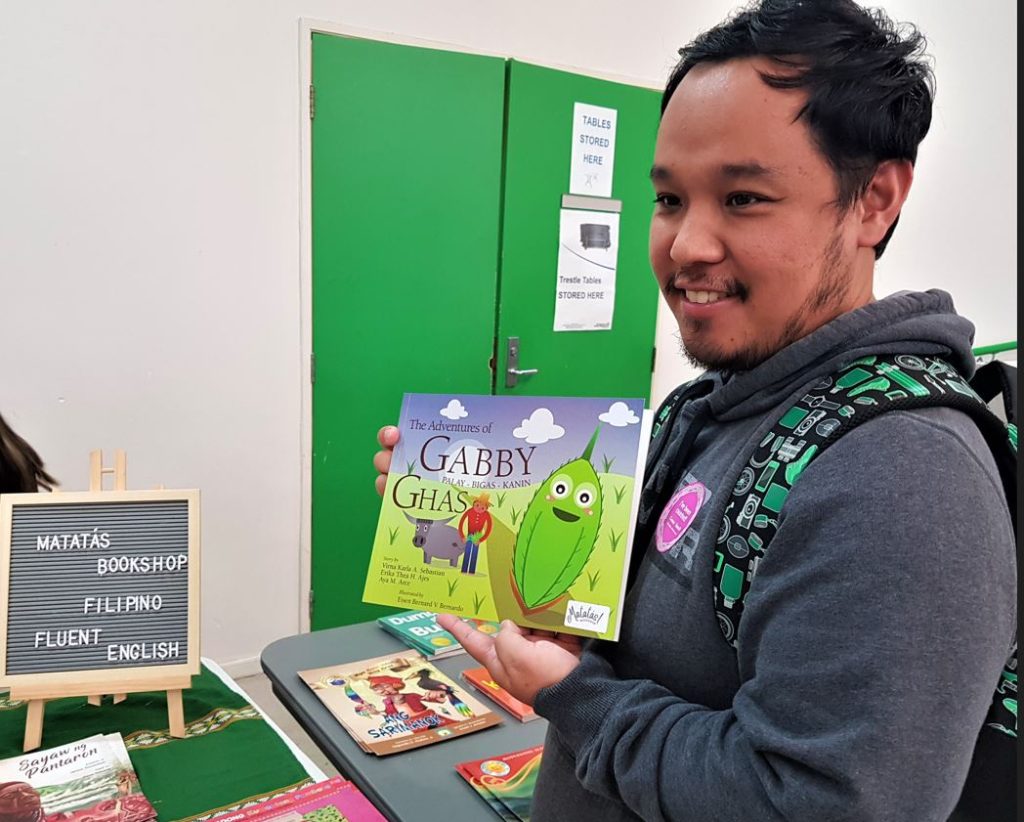 Carl Chua, Supportive Parent.
We bought the book called 'The Adventures of Gabby Ghas' (a story about the journey of a grain of rice from the farm to a hungry boy's plate). My son picked it out. It looks interesting to him.
I also saw that the subheadings were quite interesting. "Palay, bigas, kanin". (Sidenote: all three words mean rice. Palay refers to unmilled rice, bigas refers to milled uncooked rice, kanin refers to cooked rice.)
"Can he read Filipino?"
No, but we are teaching him how to.
He loves reading books.