By Ricky Matthew
AUCKLAND – The Filipino community is deeply saddened by the death of Father Mario Dorado OFM Cap, 68, one of New Zealand's best-loved Filipino Catholic priests, on 14th March 2023 at 5:05am.
He will be remembered by many Filipino migrants as an extraordinary human being who made a profound difference in their lives. At a community hui focusing on the alarming spike in the Filipino suicide rates he pointed out that: "We are not in New Zealand just to make money or to work, but also to be happy and to have peace; that is our purpose in life."
Over the years he gently motivated his parishioners to follow his example and live their lives by the motto: 'Aspire to inspire until you expire.'
Father Mario's hometown is in Santo Thomas, Batangas and he is one of 9 children. He was ordained as a priest on April 4, 1981. He arrived in New Zealand on Oct 1, 2006 and was appointed Vocations Director in the Capuchin Order and Formator for the candidates to the Order.
For two years he was at the Capuchin Friary in Kilbirnie, Wellington and was then at the Holy Cross Friary in Henderson, Auckland for four years. He was Parish Priest at Our Lady of Lourdes Parish in Glen Eden and his final transfer was to become parish priest of St. Benedict's and to head the Auckland Filipino Catholic Chaplaincy.
In an interview with the Western Leader he revealed that when he has time off he's into sports: "I like to go walking, play golf and swim." And yes, play basketball too.
Father Mario added that he loved New Zealand "because it's a nice place to live in. Life is not as fast as it is in America where I studied for a year. The pace over there is too fast; people work so hard and they forget to rest and relax. People here have a long life span because they've learnt the art of unwinding."
In 2012 his health took a sudden decline when he was diagnosed with cancer but fortunately after chemotherapy he was in remission for many years. Sadly, the cancer recurred and this adversely affected his life expectancy. Fr Mario's remains will be brought back to the Philippines.
Reflecting on Father Mario's life, his devoted parishioners, friends and family poured out their grief via Father Mario's Facebook page and our interviews.
Fe Dorado: "My brother will live in my heart forever. He's a person loved by so many. His smiling face is a positive figure of being peaceful and approachable. He is very caring and supportive in every aspect of life. I believe that his is a good legacy to many. Actually, there are no words to adequately describe my kuya. One of the best."
Anna Nora Dorado: "Rest in peace uncle Mario Dorado. I told you that when I get married I want you to be the one to bless us … but you're gone … You are super kind and you are a priest who is very cool, cheerful, loving and super liberated. We will miss you so much."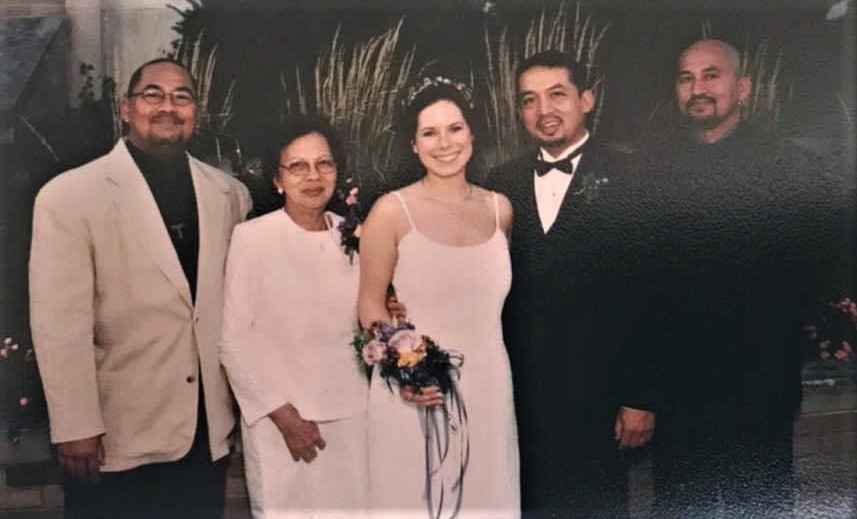 Jessica Stauffer Dorado: "What I remember best about Fr. Mario was the kindness and love and joy he shared with all. He welcomed me into the family with open arms and officiated at our wedding and the baptism of our first child.
"He was an incredibly generous, thoughtful person, and we all miss him tremendously. The American Leukaemia and Lymphoma Society is naming him an Honoured Hero as a tribute and to inspire the funding and search for a cure.
"Dearest Mario, may you rest in peace. You brought so much love, joy and inspiration to all who knew you and your legacy will continue with your family, parishioners, and friends. Forever in our hearts."
Father Nathaniel Tat Brazil: "Thank you for your brotherly love and guidance. We will never forget you."
Father Sherwin Lapaan: "A great friend, fellow golfer and brother priest is now with the Lord. Rest in Peace!"
Paul Familara: "To our beloved Fr. Mario Dorado, who's not just a down-to-earth person but also fun and adorable, we will miss you!
"Thank you for giving us the privilege to share a life with you. You radiate goodness from your heart and we will always be inspired by your strength of will and pure heart.
"Keep your strokes sweet and sure as you play perfect rounds on the best golf course above. You will always be a champion to us. RIP Fr. Mario."
Maryanne (Meanne/Bunsoy) Lee Hartman: "I met Father Mario when I joined the youth choir of St. Anthony's Parish church, Singalong, in Manila. He was my guiding light, a father figure sent by my father, who passed away when I was 15.
"Because of Fr. Mario and the choir he assembled, my faith was restored. He accompanied my mother to my graduation and was with me and my mother when I took the oath to become a licensed Optometrist.
"The best thing I remember about Kuya Mario is that his heart was always open to anyone who was lost, abandoned or feeling helpless and alone. He never judged anyone. He is truly an embodiment of God's love and mercy on earth."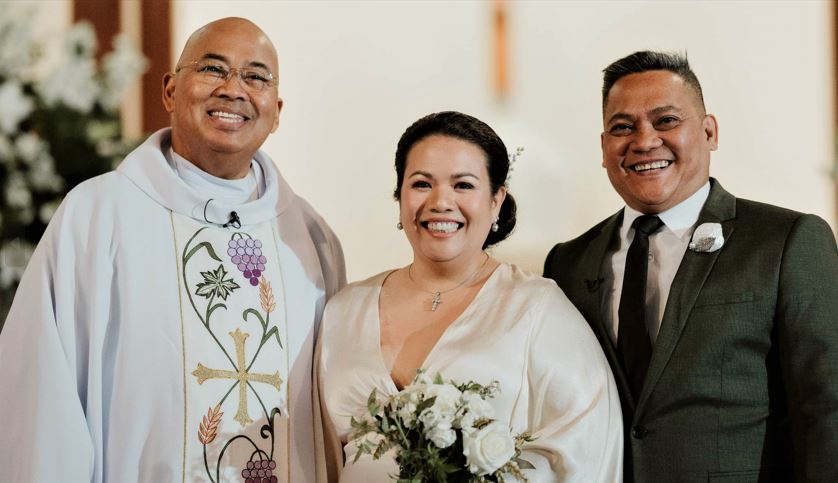 Clarence Ann Marinas-Sugui: "I met Fr. Mario in a Chinese restaurant in the CBD with my parents in 2008, when my kids and I had just arrived here in NZ. I believe that he had just finished his last round of chemo from battling the initial cancer that he had. He was pale and skinny at that time, but greeted me with a huge smile on his face and optimism for the future.
"Despite his circumstances at that time, he didn't show a hint of despair or sadness, but instead he glowed with hope and a strong sense of faith. From then on I was drawn to his light and his devotion to God.
"We attended his Sunday mass and saw each other on different casual occasions. And every time he spoke he left behind life lessons that answered the questions about my struggles in life and my faith in the most surprising and timely way. It was ingrained in me, like the messages were truly coming from the Lord. I know in my heart that there is so much goodness and a love of God that flows from him.
"I was eager to have him celebrate our wedding mass last year. I wanted him to be part of it because he just means so much to us and it felt like God was truly in our presence through him. I am glad he was our celebrant. I am honoured and privileged that he was a part of our lives.
"With a broken heart and eyes filled with tears, I am glad that he is now with our Lord and Saviour. Fr. Mario will truly be missed. He is irreplaceable. Rare are the individuals who make such an impact on one's lives, touch our hearts and heal our spirits by being a servant of the Lord.
"He is one priest whom I am so blessed and lucky to have met. My family and I are truly grateful to the Lord that we have crossed paths with him in this journey called life. He is now at peace. The heavens above indeed gained an angel, a soldier of Christ."
Ayla Bautista Uy: "Ninong Father Mario Dorado … you will always stay in our hearts. Your kindness, joyfulness and homilies will remain in us. We are so blessed to have known you. May you rest in peace. Amen."
Anthony Kit Denver Eltanal: "Fr. Mario had been our parish priest for years and his words are always full of truth, wisdom and love. His smiles and laughs are very contagious."